Valentine's Day Treats For Kids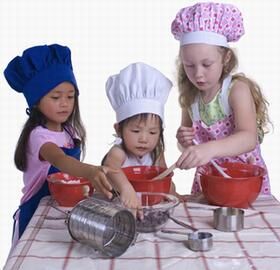 By Emma Di Francesco


Crispy Toffee Treats

1/2 cup butter
12 cups (about 80) large marshmallows
10 cups crispy rice cereal
1 1/3 cups toffee or butterscotch chips
Wooden craft sticks
1/4 cup semi-sweet chocolate chips, melted (optional)

Place butter in a very large mixing bowl. Microwave on high for 1 1/2 minutes or until melted. Add marshmallows and stir with butter to coat. Microwave on high for 3 minutes, stirring after every minute.

Stir in cereal and toffee chips until well coated. Transfer mixture to a foil-lined and buttered 15 x 10 x 1-inch baking pan with sides. With buttered hands or spatula, press mixture evenly into pan. Chill until firm.

Remove cereal mixture from pan and peel off foil. Cut with a heart-shaped cookie cutter. Insert stick into each shape. Drizzle with melted chocolate, if desired, or double the amount of melted chocolate and dip one side of the crispy hearts into the chocolate. Lay hearts onto cooking sheets on uncoated sides and chill to allow chocolate to harden.

Tips: These treats can be placed into small cellophane bags and tied with a red ribbon for gift giving.
________________________________________
Sugar Cookies

3 1/4 cups flour
1 1/2 cups sugar
2/3 cup shortening
2 eggs
2 1/2 tsp. baking powder
2 tbsp. milk
1 tsp. vanilla extract
1/2 tsp. salt
Decorative toppings

Cream sugar and shortening in a large bowl. Add remaining ingredients, except toppings. With mixer at medium speed, beat until well mixed, occasionally scraping sides of bowl with spatula. With hands, shape dough into ball. Wrap and refrigerate dough 2 to 3 hours or until easy to handle.

Preheat oven to 400°F. Roll one half or one third of the chilled dough at a time, keeping the rest refrigerated. Roll dough to 1/8" or 1/4" thickness, whatever your preference. With floured cookie cutter, cut in heart shapes. Re-roll trimmings and cut out more cookies until no scraps are left. Repeat with remaining chilled dough.

Place cookies 1/2" apart on cookie sheets lined with parchment paper. Brush cookies with heavy cream or with a mixture of 1 egg white slightly beaten and 1 tbsp. water. Sprinkle with sugar, red or pink decorative toppings or cut up gumdrops. Bake 8 minutes or until very lightly browned. Another option is to omit the decorative toppings and ice the cookies when cooled.

Variations:
Butterscotch: Substitute 2 cups packed brown sugar for white sugar.
Lemon: Substitute 4 tsp. lemon juice and grated peel of 1 lemon for vanilla extract.
Yield: 6 dozen

______________________________________________________________________

Author Bio: When asked, Emma Di Francesco describes herself as "just an ordinary woman." A full-time Executive Assistant and a wife and mother of two, she enjoys cooking and baking, spending most of her weekends either in the kitchen or at one of her children's sporting events. Over the years, she has also served her local church in various leadership capacities in children's and music ministries and in church administration. Emma's heart of hospitality and culinary skills are well known and appreciated by both family and friends, and she enjoys sharing simple ideas, recipes and tips to help others prepare nourishing meals and snacks for their families, even in the midst of very busy and hectic lifestyles. She and her family reside in Maple Ridge, British Columbia.