How to Measure Your Success as a Working Woman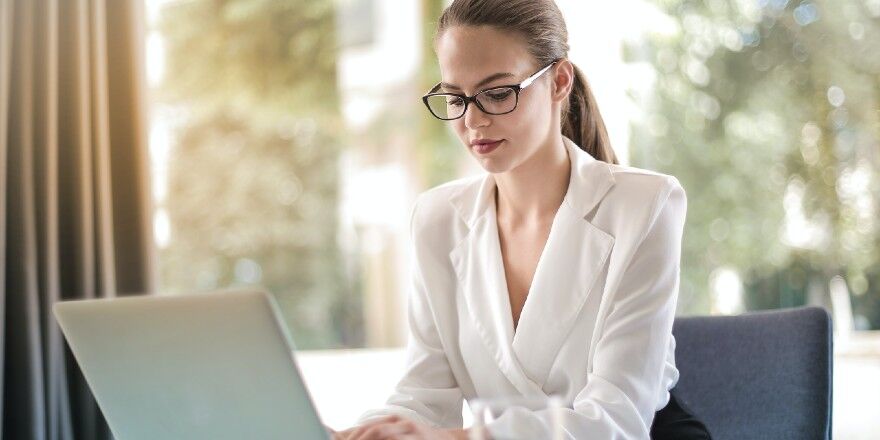 By Carolyn McCulley
Hard work is something you undoubtedly know well as a woman, since women perform a myriad of vital tasks that help people function in every sphere of life – the business marketplace, the home, the community, and the church. But you may also be acquainted with discouragement, because women often get pummeled by confusing and stressful messages about how to be successful in their work.
The only perspective on success that really matters is God's perspective. Thankfully, you can count on God to empower you to be successful in your work whenever you place your trust in him. Measuring your success by society's standards is unreliable and frustrating, but measuring it by God's standards will help you work to your highest potential. Here's how:
Define yourself by who you are rather than what you do. Resist society's pressure to base your identity on the type of work you do – whether paid or volunteer. From God's perspective, what's most important is who you are. Keep in mind that your true identity is as one of God's beloved children (not the various roles you fill while working – from employee to mother). So do your best each day to use your God-given talents and opportunities to invest in what will have eternal significance, focusing on your permanent relationship with God rather than on the various jobs you do temporarily as your circumstances change.
Approach work as a blessing, not a burden. Realize that God created work as a good gift to people to help us all discover and fulfill his purposes for our lives. Even though work is hard (as a result of humanity's fall in the Garden of Eden), it's meaningful and can lead to good results. So instead of dreading work or trying to avoid it, answer God's call to work and trust Him to work through you to accomplish good purposes through any type of work – even the most mundane tasks. God knows that you're doing the best you can with the resources, opportunities, and responsibilities that you have, and he will maximize the results of your work when you trust him.
Restore your capacity for work through rest. Ask the Holy Spirit to help you incorporate enough rest into your schedule so you'll have a healthy balance in your life. Aim to spend about a third of your time working, a third for engaging in non-work activities, and a third for resting. You can be most productive when you're well-rested. So observe a Sabbath day every week, get the amount of sleep your body needs each night, and spend some time regularly in silence and solitude so you can peacefully reflect on your life.
Prioritize different types of work wisely during the different seasons of your life. The amount of attention you devote to various jobs (from working for pay in the marketplace and volunteering in your community to caring for your family at home) should vary as your circumstances do. Rely on the Holy Spirit to guide you about what types of work to take on and how best to manage your work schedule at different times in your life, such as when you have young children or when your children grow up and leave home. But keep in mind that there is no one-size-fits all plan for how to prioritize; since your circumstances are unique, your priorities should fit them uniquely. Stay in touch with the Spirit often to freshly evaluate your priorities and base your work decisions on those priorities.
Be ambitious for the right reasons. Recognize that God wants you to be ambitious in your work so you can be as fruitful as possible in every situation. But it's crucial to pursue ambition with the right motivation: not to try to boost your own ego (which is ultimately meaningless) or to earn God's love (which you already have, unconditionally) or the approval of other people (which you can't control), but to bring glory to God. You can glorify God through your work ambitions by faithfully developing the gifts he gave you, seeking new opportunities to use those gifts, and extending your influence for good among the people who know you.
Develop skills that will help you work productively. Those skills include: planning ahead strategically and setting goals, making wise decisions, managing time and money wisely, building healthy relationships with people and collaborating with them graciously, applying ethical standards to business, focusing on your skills and character rather than on your sexuality in the workplace, figuring out how to add value to your organization's bottom line and doing so well, solving problems rather than just complaining and gossiping about them, getting to the point when communicating with others, resolving conflict, resisting the temptation to sin sexually with coworkers and on business trips, managing your household well, investing in your own health and well-being, taking initiative, displaying integrity and honesty, thinking innovatively, championing change, and inspiring and motivating others.
Recognize that God doesn't discriminate between sacred and secular work. While some people separate different kinds of work into "sacred" and "secular" categories, God considers all work equally valuable when it's done for the right reason: to glorify him. So no matter what type of work you do, be assured that your work is significant whenever you do your best to serve God through it.
Keep working productively throughout your entire lifetime. No matter how old you are or what type of work God has for you during each season of your life, remain committed to using each day that God gives you to be as productive as possible. Imagine meeting Jesus at the end of your earthly life and hearing him tell you how pleased he was to see the faithful work you did.
Adapted from The Measure of Success: Uncovering the Biblical Perspective on Women, Work, and the Home, copyright 2014 by Carolyn McCulley with Nora Shank. Published by B&H Publishing Group, Nashville, Tn., www.BHPublishingGroup.com.
Carolyn McCulley is the author of Radical Womanhood: Feminine Faith in a Feminist World (Moody, 2008) and Did I Kiss Marriage Goodbye: Trusting God with a Hope Deferred (Crossway, 2004), as well as hundreds of articles for publications, including Christianity Today, Boundless.org, and the Washington Post. She is also a contributor to Sex and the Supremacy of Christ and the ESV Study Bible. She is a frequent speaker and the founder/owner of Citygate Films LLC, a documentary film production company based near Washington, D.C. She is single and the proud aunt of six nieces and nephews.
Nora Shank was born in the suburbs of Washington, D.C., where she was raised with more than a big city idea of work. After several entrepreneurial candy and lemonade stands, she learned how to run a successful catering business before pursuing her love of food and wellness as a registered dietician. She now works as a personal health consultant and resides in Virginia. She is married to Travis and they have two children, Kate and Grant.
Whitney Hopler, who has served as a Crosswalk.com contributing writer for many years, is author of the Christian novel Dream Factory, which is set during Hollywood's golden age. Visit her website at: whitneyhopler.naiwe.com.
Publication date: February 6, 2014
Page Source (url): http://www.crosswalk.com/family/career/how-to-measure-your-success-as-a-working-woman.html